<![CDATA[[vc_row][vc_column width="2/3"][vc_column_text]On a rather foggy and cold morning lots of ladies throughout Gloucestershire were no doubt up early to get ready for the spectacle that is Cheltenham ladies day as the second day of the Cheltenham festival kicked off in style.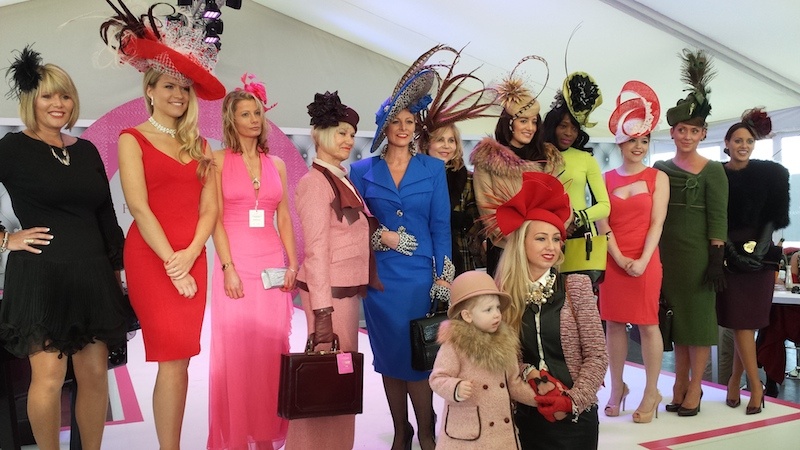 With a new look competition anyone could enter to win the title of most stylish racecgoer, the winner having the opportunity to scoop a rather large prize. There was tweed, feathers and fur as we saw a variety of different classical and more theatrical styles on ladies as they entered the racecourse. The hats of course the most important feature to finish off the outfits (although I have to say I'm more than a little biased about this!)
So for my first client I created a fabulous large tilt hat using leopard fur and beautiful electric blue wool crêpe, both of which were also used to create the vintage inspired two piece outfit. The hat was predominately the leopard print fabric with a short crown and binding edge in the crepe. A leopard covered button matching those on the jacket kept a swathe of lady Amherst pheasant feathers in place and underneath a bunch of blue roses added a pop of the blue colour giving attention to detail all around the hat.
The next headpiece was created using inspiration from existing headpieces in the studio. Her bodycon dress in lime green and black allowed us to be big and bold with colour statement and structure. Several fabric shapes were stitched together to give a flow of interlocking shapes all the way around the headpiece, the fabric also had a metallic thread running through so it glistened in the sunlight. On the front a statement dahlia secured two quills in place and at the back several zebra stripe flowers added  interest to break up the lime green shapes.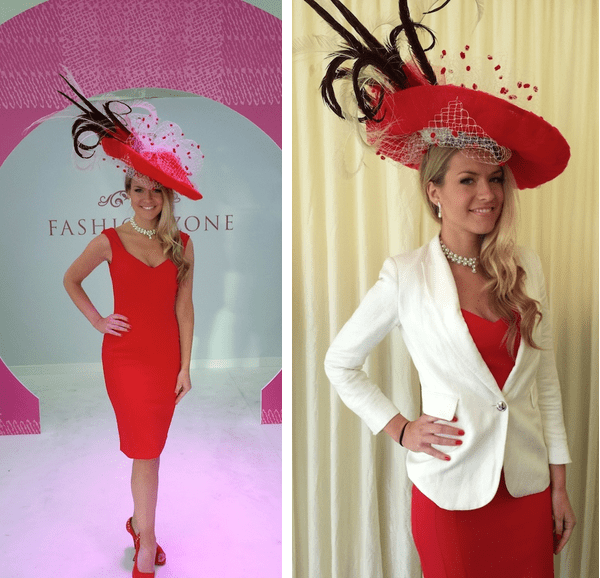 The last hat was a very last minute order for Miss England with a red and white theme. I created a tilt brim hat covered in bright red strips of tulle net and adorned with large ivory millinery net bows (I find pure white looks very cheap so I usually choose an off white or ivory that visually will still look white next to other colours). Large red pheasant feathers and bleached peacock swords finished the hat to give added lift and texture.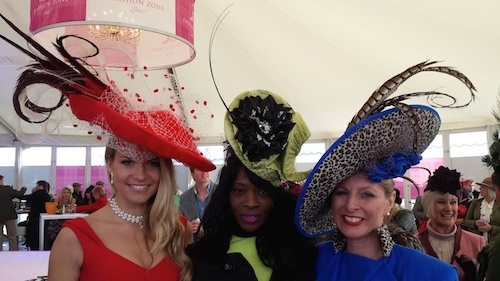 All three clients were successfully selected for the final 10 places in the competition and although they didn't win they definitely stood out from the crowd. Well done to Deb, Racquel and Kirsty I'm so thrilled that you did so well. This is why I love my job and always aim to have happy customers!
So perhaps if you are attending a race meeting and you need a hat that will stand out from the crowd please get in touch as I'd love to create something individual for you.Contact the studio on 0121 745 2959 or email info@sharpermillinery.co.uk
[/vc_column_text][/vc_column][vc_column width="1/3"][vc_widget_sidebar sidebar_id="sidebar-right"][/vc_column][/vc_row]]]>